The Isle of Sheppey's natural and historical significance to Kent is intriguing and significant. Seaside towns, aviation and heritage museums with nature reserves offer visitors a mix of activities for a day trip or longer.
Sheerness natural highlights include miles of beaches, such as the award winning Leysdown and Sheerness beaches, with seaside amusements and rides nearby to keep all ages entertained. Or for those looking for or interested in a range of bird sightings and fossil finds, the Swale and the Elmley Nature Reserves must be on your list to visit. The latter is a working farm, with 3,300 acres of wilderness and breath-taking beauty with sustainability at the heart.
An eclectic mix of historic and unique items can be found at the Rose Street Cottage of Curiosities, and if more of the history of the island is desired then visit the Queenborough Guildhall Museum. Here learn more about the Island's unique history that has grown from a small Saxon settlement to a wealthy Borough and Royal Castle built by Edward III, Queenborough is full of Victorian industrial heritage still evolving to this day.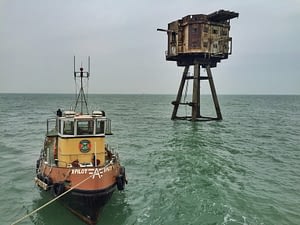 Watch local dramatics and visiting productions at the Sheppey Little Theatre in Blue Town, which is also home to a heritage centre. Learn about the dockyard's history and influence as it was of significant importance to the island for almost 300 years. The Criterion is part of the Heritage Centre and also hosts a variety of touring productions.
Boat trips to the Maunsell Sea Towers are a must, read more in our listings on these fascinating towers. Lots of water-based activities on offer too from windsurfing to pedalos.