Parallel Mothers
Pathé UK
Released: 28th January 2022
Almodóvar's latest film is earning great reviews, as is Cruz's performance. The film is about two single women who meet in a hospital room where they are both going to give birth. One is middle aged and doesn't regret it, while the other is adolescent and scared. The two women form a strong bond with one another as they both confront motherhood.
Cast: Penelope Cruz, Milena Smit.
Director: Pedro Almodóvar.
Certificate: 15.
Sing 2
Universal Pictures UK
Released: 28th January 2022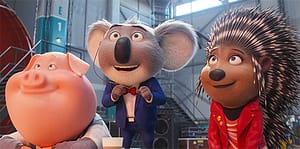 Can-do koala Buster Moon and his all-star cast of animal performers prepare to launch a dazzling stage extravaganza in the glittering entertainment capital of the world. There's just one hitch – he has to find and persuade the world's most reclusive rock star to join them. What begins as Buster's dream of big-time success soon becomes an emotional reminder of the power of music to heal even the most broken heart.
Cast: Matthew McConaughey, Reese Witherspoon, Scarlett Johansson, Tori Kelly, Taron Egerton, Bono.
Director: Garth Jennings.
Certificate: U.
Amulet
Republic Films
Released: 28th January 2022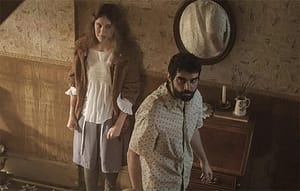 A homeless ex-soldier receives an offer to work as a carer for a woman and her dying mother. He soon falls in love with the daughter, but he cannot quite shake the suspicion that something sinister is going on in the old house.
Cast: Carla Juri, Imelda Staunton and Alec Secareanu.
Director: Romola Garai.
Certificate: 15.
Flag Day
Vertigo Releasing
Released: 28th January 2022


Jennifer Vogel's father, John, is larger than life. As a child, she marvels at his magnetizing energy and ability to make everything feel like a grand adventure. He teaches her so much about love and joy, but he also happens to be the most notorious counterfeiter in US history. Jennifer now struggles to rise above the wreckage of the past while reconciling the inescapable bond between a daughter and her father.
Cast: Dylan Frances Penn, Hopper Jack Penn, Katheryn Winnick.
Director: Sean Penn.
Certificate: 15.
Sing A Bit Of Harmony
Sony Pictures UK
Released: 28th January 2022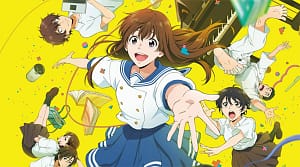 A mysterious girl named Shion transfers to Keibu High School, where she quickly becomes popular due to her open-hearted personality and exceptional athletic talent. However, she's secretly an AI in the testing phase.
Cast: Tao Tsuchiya, Haruka Fukuhara, Asuka Kudoh, Kazuyuki Okitsu, Mikako Komatsu, Satoshi Hino.
Director: Yasuhiro Yoshiura.
Certificate: PG.
Taming The Garden
Dogwoof
Released: 28th January 2022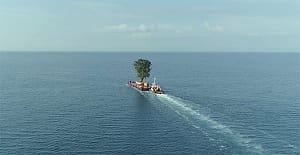 Filmmaker Salomé Jashi's documentary follows massive and ancient trees being transported – at great expense and inconvenience – from the coast of the Republic of Georgia to the private garden of a wealthy and politically powerful man. As the film follows this progress, it portrays the needs and values of today's Georgian society and reflects on the theme of forced migration, where 'uprooting' is more than a metaphor.
Cast: N/A.
Director: Salomé Jashi.
Certificate: 15.
Picture Credit © Film Distributors' Association.