Winter walks and trails are a great way to start the new year, and we round up some of our favourites for you to explore the beauty that is the great garden of England.
For lots more ideas to enjoy the nature that Kent has to offer, see our Outdoors category – with filters such as parks and gardens, nature and wildlife. Plus check out the Tours and Trips category for quizzes and hunts to explore more urban areas.
By Sophie Bland and Julia Davies.
South Kent
White Cliffs of Dover
Opening hours: Parking 7am-7pm, Café & Shops: 10am-4pm.
Price: Parking charges from £5. National Trust Members: Free.
Walks on these iconic cliffs are awe-inspiring, including the coastal path to the South Foreland Lighthouse with far reaching views of the French coast run by the National Trust. There is also a  wheelchair friendly footpath that leads to a viewing point, ideal if you just want a short walk to see the iconic cliffs. This all weather path is built with a staggered incline, allowing a few breathers on the way up and is ideal if the weather is bad. At the top is one of the best views of the cliffs with the rolling green hilltops and sheer chalk edge, dropping to the sea below.
Solley's Ice Cream Parlour
Deal
Monday to Friday 11am-4pm, Saturday & Sunday 10am-4pm.
Price: Free.
Solley's Ice Cream Parlour farm trails let you explore and find out more about wildlife on the farm. The farm trails are open 7 days a week, the walks ranging from 15 minutes to 1 hour and 20 minutes. Surrounded by beautiful Kent countryside with plenty of footpaths that cross the farm and nearby cycle routes, you can download their routes, or pick up a leaflet at the parlour. Tractor rides are also available on Saturdays and Sundays (weather dependent).
Winter Wander Trail At Sissinghurst Castle
Ashford
Until 30th January 2022
11am-4pm
Price: £2 –with admission – National Trust members: Free/Standard/Gift Aid: Adult:£11/£12.10/Child – 5-17 years: £5.50/£6.10
Child – under 5 years: Free/Family – 2 adults + and up to 3 children 5-17 years: £27.50/£30.30/One adult family: £16.50/£18.20. Parking: £4/National Trust Members: Free.
This Winter, treat your little ones to a world of adventures at Sissinghurst on the Percy the Park Keeper's winter wander trail. Join in the fun with Percy and his animal friends and give nature a helping hand.
Half Term Explorer Quest at Dover Castle
Dover
12th to 20th February 2022 10am-4pm
Price: Free with admission – English Heritage Members: Free. Adult: £23.50/Child – 5-17 years: £14.10/Concession: £21.20/Family – 2 adults: £61.10/Family – 1 adult: £37.60.
Get out and about this February half term on this brand new explorer quest. Track down the clues and solve the puzzles as you follow the family trail through the grounds of Dover Castle, and enjoy a brilliant day out in history.
Betteshanger Country Park
Deal
From 22nd January 2022  8am-5pm
Price: Free entry, parking charges apply.
Dogs: On leads at all times.
Cycling and walking trails available at this 250 acre park former colliery spoil tip.
East Kent
Curious About Canterbury Trail
Canterbury
Price: Download: £7.49/Post: £7.99 + P&P
One booklet is suitable for up to 4 people. Suitable for ages 6+.
Curious About offer self-guided walks for the inquisitive, with trails that help you explore, discover and enjoy the town you visit. Their Canterbury guides feature two self-guided heritage walks with a treasure hunt theme. Discover Canterbury's hidden gems, and have a fun day out with family and friends. Canterbury is probably best known for its Cathedral, however, there's plenty more to see and explore – a ruined castle, a large and vibrant park with historic connections, city walls and ancient city gates, the Buttermarket, and it is home to Chaucer's Canterbury Tales. This is an enchanting city you can learn all about. Walk 1 – Cathedral Circular (1.5 miles): 1 hour 30 minutes. Walk 2 – Cathedral to Gardens (1 mile): 1 hour.
Following in the Footsteps
Ramsgate
Price: Free
Visit Ramsgate leaflet trail, based on extracts from letters Vincent van Gogh sent to his brother, Theo in 1876 during his short stay in Ramsgate. The Trail is called Following in the Footsteps of Vincent van Gogh. When he stayed in Ramsgate, he took no respite from his preferred method of communication, writing mainly to his brother but also to his parents and other relatives, often 'copying and pasting' information but always tailoring them to the recipient. The trail is around 1.6 miles long, and you can download it from our website link. The leaflet features extracts of the letters he wrote about the town, including the Royal Harbour.
The Wildart Trail in Thornden Wood
Herne Bay
Price: Free entry, parking charges apply.
Dogs: On lead.
This is described as a walk of discovery through different habitats with the ancient woodland setting, with this art and sensory all access trail. It is a 1 mile, circular trail, that has Konik ponies grazing as well as home to a variety of wildlife.
The Viking Coast trail
Ramsgate
Price: Free
For those looking for longer walking or cycling adventures  then The Viking Coastal Trail is a 32 mile route, and is also the Regional Cycle Network 15, though you don't have to do it all at once. Download the Sustrans route on the website link and you can also find out what attractions, beaches and countryside you will cover. Starts at Cliffs End and finishes at the Reculver Towers covering the Thanet towns of Ramsgate, Broadstairs and Margate. The waymarked Coastal Path also links with it, as does the Saxon Shore Way.
North Kent
Shorne Woods
Gravesend
Opening Hours: 9am-dusk.
Price: Free entry, parking charges apply.
Shorne Woods is a popular country park, with an eco friendly visitor centre, fishing lakes, three play areas in the 292 acres of rolling woodlands, wetlands and meadows that can be explored via a variety of waymarked trails. Its history is long, with flint tools discovered showing that the woods may have been used as long as 12,000 years ago, or see the foundations of the 13th Century Randall Manor or the air raid shelters from an RAF billet camp and is a Green Flag park. Offers waymarked and easy access trails, from under 1kmto 10km – see their website for a map.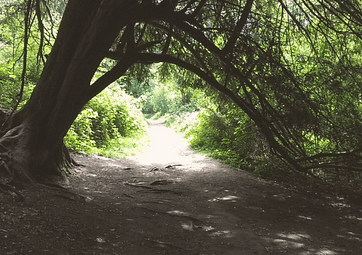 Trosley Country Park
Gravesend
8:30am-dusk or 9pm  – whatever is earlier.
Price: Free entry, parking charges apply.
Trosley Country Park is a Green Flag Park that has plenty for walkers, children and nature lovers to enjoy and it is renowned for its bluebell displays in the summer. Its chalk grassland is classified as a Site of Special Scientific Interest, while the grassland supports an array of butterflies every summer, including the Chalkhill Blue. There is the ancient listed monument of 15 sarsen stones, known as the Coldrum Stones to visit, tree waymarked trails with views over the Downs and visitors can download a pdf of the park with details of walking trails from their website.
Jeskyns Community Woodland
Gravesend
Car Park – Daily 7am-dusk
Price: Free entry, parking charges apply.
Jeskyns Community Woodland offers five walking trails, play areas, cycling paths in this 360 acre newly planted woodlands, meadows and orchards. It also has a Fairy and Elf Village to explore, which little ones can find through the gate in the sandpit play area. Little ones can also do the Gruffalo Spotters trail, buy the activity pack at the cafe (£3.50) and with an app they can interact with each of the characters as they appear within the forest.
Lullingstone Country Park
Dartford
8am-9pm or dusk- whatever is earlier.
Price: Free entry, parking charges apply.
Waymarked trails including the Discovery Trail for children, the Woodland Walk, and the Lullingstone Loop is internationally important for its collection of ancient trees, with over 200 veteran oak, beech, ash, sweet chestnut and lots more, with some believed to be over 800 years old. The park also has chalk grassland with orchids and other wildflowers.
Saxon Shore Way
Gravesend
Saxon Shore Way starts in Gravesend and is a long distance footpath along the coast as it was in Roman times and goes as far as Hastings in East Sussex, 163 miles in total. There is a pdf from Medway.gov.uk website with many various routes you can take.
The England Coast Path
An incredibly varied 47.12-mile trail from the north Kent coast, along the wild reaches of the Thames Estuary which supports a wealth of wildlife, and beside the dynamic working tidal Thames in London, has been opened by Natural England. his new trail covers a wealth of unique environments. Set off from Grain on the Hoo Peninsula and enjoy views across to Sheerness on the Isle of Sheppey, and the confluence of the Medway and Thames. The Grain to Woolwich stretch connects the sea and the Thames Estuary to central London for the first time. The nearly 50-mile route forms a continuous walking trail on the south bank of the Thames to the coast at Grain in Kent. The route links with the existing Thames Path at Woolwich to create a continuous 'source to sea' National Trail along the length of the River Thames.
West Kent
Biggin Hill Memorial Museum
Westerham,Sevenoaks
From 31st January 2022
The Seeking RAF Biggin Hill trail is available for visitors at the museum reception, or can be downloaded from their website. It is a 1.6-mile trail in the vicinity of the museum, pointing out areas of significance and is designed so that walkers can join the route where they want.
Scotney Castle
Lambhurst, Tunbridge Wells
Daily Until 11th February 10am-4pm, 12th February to 31st October 10am-5pm, November to December 10am-4pm
Price: National Trust Members: Free/Adult: £11/Child – 5-17 years: £5.50/Child – under 5 years: Free/Family – 1 adults & 2 children: £16.50.
Dogs are allowed in the main garden and on the estate on a short lead.
Scotney Castle is a 14th Century moated castle, set in a wooded estate with over 780 acres to explore and is a National Trust property with There is a formal garden trail, with pushchair and wheelchair friendly routes , you can download their Winter Garden Guide on their website for some of the season's highlights. There are also way-marked trails suitable for all abilities, and you can buy a map at the garden entrance or download it from their website. Their ranger team know the estate like the back of their hands and they recommend you take a stroll along the waymarked parkland trail that takes you around the old castle. Climb the hill and turn to take in a warming winter view. The jagged ruins complement the straight-lined mansion towering above. Hardy sheep graze the frozen ground and ducks paddle in the chilly moat.
Ightham Mote
Sevenoaks
Daily – Garden 10am-4pm, Estate Dawn to dusk
Price: National Trust Member: Free Garden & Estate Gift Aid/Standard  – Adult: £5.95/£5.40/Child – 5-17 years: £3/£2.70/Child – under 5 years: Free/Family – 2 adults & maximum of 3 children: £14.90/£13.50.
Until the end of February dogs on leads are welcome in the garden.
Venture onto the Ightham Mote estate on one of the three estate walks, which offer unique views across the Kent countryside and stunning displays of flora and fauna. There is the renowned ancient bluebell woodland in spring at Scathes Wood, wildflowers in the summer, autumn colours and the crisp days of winter to come back and enjoy. Discover the hoppers' huts and the source of the water spring that feeds the moat at Ightham Mote.
Emmetts Garden
Sevenoaks
January 10am-3.30pm, February to October 10am-4.30pm.
Price: National Trust member: Free/Garden – Standard/Gift Aid: Adult: £10/£11/Child: £5/£5.50/Family: £25/£27.50/Family- 1 adult: £15/£15.50.
Dogs on leads when in fields with livestock.
The lack of leaves on the trees means more and more viewpoints open up over winter in these gardens, creating better vistas across the Weald of Kent and beyond. From the entrance, you'll walk through the meadow where the rolling landscape leads your eye up to Ide Hill village on the other side. The church with its towering spire can easily be spotted from here. Next take a wander through the south garden, full of exotic and rare trees and shrubs from all across the globe. The handkerchief tree, full of white drooping bracts in spring, is transformed into a beautifully eerie silhouette, with countless fruit hanging from its branches. As you make your way into the woodland you'll stumble across more of the outstanding views. Emmetts Garden sits on one of the highest points in the Weald of Kent, making it the perfect place to pull up a chair and enjoy the view.
You can also print off their trail on their website for the Weardale Walk.
Chartwell
Sevenoaks
Garden – November to January 10am-3.30pm, February to November 10am-4.30pm
Price: National Trust Member: Free/Standard/Gift Aid Garden and Studio –  Adult: £14/£15.40/Child: £7/£7.70/Family: £35/£38.50/1 Adult and up to 3 children: £21/£23.10.
Dogs on short leads in the garden and meadow on the house side of the lake.
Chartwell is the family home of Sir Winston Churchill and the 800 acres of rolling farmland and woodland have been part of Chartwell since 1848 and it wasn't until 1921 that the land was split into smaller lots at auction, with the house and 82 acres being bought in 1922 by Churchill. Enjoy the 3 hour circular walk combining Chartwell, Kent and Surrey. Take in the vistas traversing open countryside, wooded glades and passing the grave of Octavia Hill, one of the founders of the National Trust. This walk involves rough ground and steep slopes so come prepared. The Chartwell estate walk is a 45 minute walk perfect for children where they will discover a Second World War bomb crater, dens made of coppiced chestnut trees and a camp created in honour of the Canadian troops that were stationed at Chartwell in the Second World War.
Toys Hill
Westerham, Sevenoaks
Daily – Dawn to dusk.
Price: Free.
Advisory Notes: Parking is limited and the car park fills up regularly. Please see their website for more parking options for when it is full.
Dogs on lead around livestock and near busy roads.
Toy's Hill is more than 200 acres (81 hectares) of woodland. The area is designated a Site of Special Scientific Interest due to its abundant wildlife, and much of it is recognised as a Grade I site of national importance for nature conservation. It is a marvellous place to enjoy a peaceful, relaxing walk, admire fine views over the Weald of Kent and discover the wildlife it is home to.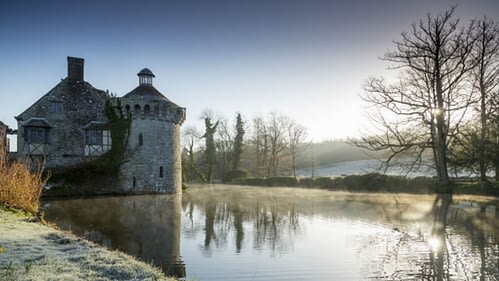 Knole  House
Sevenoaks
Dawn to dusk.
Price: Free entry – parking charges apply – must pre book.
Dogs on lead at all times.
With over 1000 acres of parkland, immerse yourself in the vast estate and follow in the footsteps of tourists who have visited Knole's showrooms for 400 years. Originally built as an archbishop's palace, Knole passed through royalty to the Sackville family, who still live here today. Take in the scale and magnificence of this 600 year old estate by exploring the grand courtyards and tranquil Orangery or wander the winding paths in the parkland, still populated by wild deer.
Bedgebury National Pinetum and Forest
Tunbridge Wells
Daily 8am-4pm
Price: Parking per car – All day: £14/Term Time: Monday to Friday (Off Peak): All day: £10/Early Bird Exit: 8am-11am: £3.50/Any vehicle up to 20 minutes for drop off and collection only: Free.
Dogs on lead when you are in the National Pinetum, car park and around the play areas. Only assistance dogs are allowed in the visitor centre, information office and café. Dogs can be taken off the lead in the wider forest but please be mindful of other visitors and take extra care near our bike trails. Dogs aren't allowed on the mountain bike trails.
This beautiful space is home to over 12,000 trees, features three walking trails and three cycling trails, and four orienteering trails as well as running trails. You can hire a bike, a free tramper hire for those with disability issues, Walk and explore this beautiful space, and find a Gruffalo sculpture hidden in the forest.
Tudor Trail
Tonbridge
Dawn to dusk
Price: Free entry, parking charges apply.
Dogs allowed.
This route offers an almost entirely traffic-free ride from the heart of Tonbridge alongside the River Medway, out into the countryside as far as Penshurst Place, some 5 miles to the west. This cycle ride or walk takes you past playing fields on the edge of Tonbridge and into Haysden Country Park, running around the edge of Barden Lake with its wide variety of birdlife. This Sustrans route also passes through broadleaf woodland, to the bridge over the River Medway and Well Place Farm, which offers wide-ranging views of the surrounding countryside. You descend past two lakes during this 5 and a half-mile walk or ride, which takes around 2 hours on foot or 30 minutes by bike.
Also in the park is The Eden Valley Walk and Wealdway lead through the park. There is also a range of waymarked trails to enjoy, including nature and historical adventures, and waymarked trails have limited access for less able users with some unmade paths in the more distant parts of the site.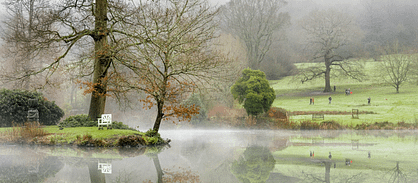 Penshurst Place and Gardens Woodland Trail
Tonbridge
Daily 10am-5pm
Price: Gardens and Grounds Only – Adult -16 years +:  £11.50/Child – 5-15 years:  £6.80/Family – 2 adults + 2 children: £34.50/Family – 1 adult + 3 children: £30/Family – 2 adults + 1 child: £27. Free admission for 2 children under 5 per paying adult, £2.50 per child under 5 years thereafter. Admit one accompanying registered carer free of charge when accompanying a full-paying person. Parkland: Free.
Dogs allowed in parkland only, must be put on leads around the ewes. Registered assistance dogs allowed on the estate.
Enjoy walks around this managed woodland environment for you to experience and enjoy the nature around you. Encompassing a 1km loop, walk along the trail and you will discover log pyramids, mushroom carvings and an abundance of wildlife. We're continuing to cut back some of the growth on the trail to allow light to reach the woodland floor. We've seen the benefits of this already with moss species thriving and we hope to soon see the return of our Bluebells to join them. Elsewhere the den-building area is ready and waiting to support your newly built woodland homes, and our Trail activity sheet is ready to be used to help you keep a record of what you spot along the paths.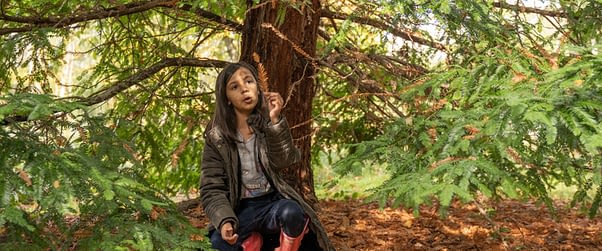 Picture Credits: Main: © – Penshurst Place, Viscount De L'Isle. Top to bottom: Shorne Woods – Kent County Council/Scotney Castle – The National Trust/Chartwell – The National Trust/Bedgebury National Pinetum and Forest – Forestry England.